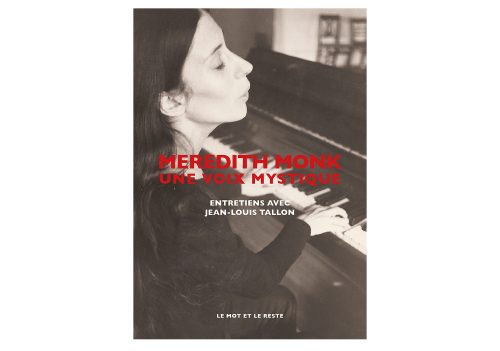 Meredith Monk, une voix mystique
Interviews with Jean-Louis Tallon
Published on January 20, 2022
Le mot et le reste, Marseille, France
This new book, written in French, is a collection of interviews conducted by author Jean-Louis Tallon with Meredith Monk between 2014 and 2020. Reviewing the main stages of Monk's biographical journey, it elucidates over the course of the discussions how this "magician of the voice" has created a singular musical universe that feels more relevant than ever. As a composer, singer, director/choreographer and filmmaker, Monk discovered early on that the voice would be the primary vector of a total art form incorporating multiple modes of perception. From her visionary interdisciplinary approach, pieces such as Dolmen Music, ATLAS, impermanence and Cellular Songs emerge, conjuring landscapes and characters that are unique yet universal, luminous and powerful.
With a foreword and afterword by the author, numerous photographs, and an extensive bibliography.
Born in 1973 in Lyon, France, Jean-Louis Tallon is author of the novel Composition de l'atmosphère Composition de l'atmosphère (Le Grand Souffle, 2007). Over the last 20 years he has conducted numerous interviews with writers and artists, several of which have been the subject of publications such as Un écho lacunaire, with Pierre Bergounioux (Fata Morgana, 2014), Philippe Hersant, portrait d'un compositeur (Cécile Defaut, 2015) and Gavin Bryars, en paroles, en musiques (Le mot et le reste, 2020).
–
$23.00
ADD TO CART ON PAYPAL
–
–
---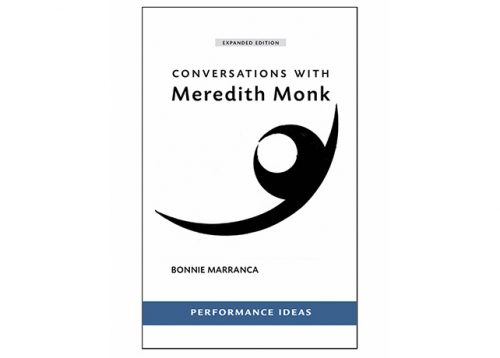 Conversations with Meredith Monk – Expanded Edition
Performing Arts Journal Publications
Published on December 20, 2020
This expanded edition of Conversations with Meredith Monk offers a fascinating portrait of the internationally renowned composer, performer, director, and filmmaker, from her early years to the present. The volume, first published in 2014, now includes an eight-page color insert and has been updated to feature discussions of Monk's latest music-theatre work, Cellular Songs, and a work-in-progress, Indra's Net, in addition to the recent revival of ATLAS: an opera in three parts at the Los Angeles Philharmonic—a work that the New York Times called "her masterpiece and one of the defining operatic experiments of the 20th century"—and the showing of the remastered film of Monk's great work Quarry.
The five long conversations that comprise the volume, the latest in PAJ's "Performance Ideas" series, generate invaluable insights into artistic process, the human voice, interrelationships of time, space, and music, and the complexity of artistic legacies. Monk dives into questions of performance such as: What is a "contemporary" work? and How does an artwork retain its integrity of form over time?
In these deeply engaging conversations, Monk speaks in great detail on her creation of music-theatre works, operas, and films, reflecting on the large-cast theatrical works and the more recent poetically distilled, abstract pieces. In her preface to the new edition, "Performance as a Life Science," Bonnie Marranca writes: "Now, against the background of life in extremis, it is evident that Monk had already acknowledged both the always unknown future and the resilience of human beings. For decades her body of work has been rooting itself in the recurrent themes of spiritual quest (Songs of Ascension), healing (The Politics of Quiet), compassion (mercy), plague (Book of Days), fragility of life (impermanence), cultural identity (Ellis Island), historical trauma (Quarry), ecology (On Behalf of Nature), and community (Cellular Songs)."
–
$18.00
ADD TO CART ON PAYPAL–
–
SCORES

To see a full list of available scores by Meredith Monk, please visit Boosey & Hawkes, here.



BOOKS