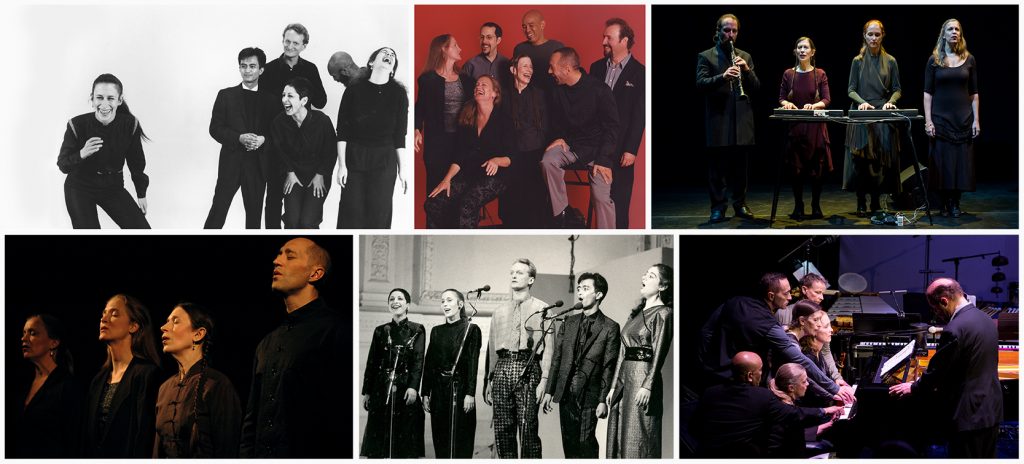 Meredith Monk & Vocal Ensemble consists of some of the finest and most adventurous singer/ instrumentalist/ performers active in new music. Founded in 1978 to further expand Monk's groundbreaking exploration of the human voice, the Ensemble has received multiple awards and critical acclaim, including a 2008 GRAMMY nomination for impermanence. Appearing in festivals, theaters and concert halls around the world, Meredith Monk & Vocal Ensemble can also be heard on numerous recordings on the ECM New Music Series label.
Members of the vocal ensemble include:
THEO BLECKMANN
Theo Bleckmann is a Grammy-nominated singer, composer and arranger whose work spans concerts, installations, live electronic vocal processing, contemporary music theater, cabaret, ambient music and performance art. Bleckmann has released a series of diverse albums including his collection of acoustic solos for voice (I dwell in possibility) and his highly acclaimed Hello Earth – the music of Kate Bush. He has worked with such artists as Ambrose Akinmusire, Laurie Anderson, Uri Caine, Philip Glass, Ann Hamilton, John Hollenbeck, Sheila Jordan, Phil Kline, David Lang, Kirk Nurock, Frances McDormand, Ben Monder, Kenny Wheeler, John Zorn, Bang on a Can All-Stars, and, most prominently, with Meredith Monk since 1994. Mr. Bleckmann has performed with Laurie Anderson on The Late Show with David Letterman and has been a guest of Terry Gross on NPR's Fresh Air. Mr. Bleckmann recently released his first CD, elegy, for ECM.
TOM BOGDAN
Tom sings a broad spectrum of music and has received critical acclaim for performances ranging from opera to cabaret. He first performed with Meredith Monk in ATLAS: an opera in 3 parts and is a member of her Vocal Ensemble. Ms. Monk wrote "New York Requiem" especially for him and he has performed it in New York and throughout Eastern Europe. He has participated in the premieres of more than 50 new works. Crossing many musical boundaries, his eclectic cabaret shows have delighted critics and audiences alike and his L'Amour Bleu, a musical masque on gay themes, was produced by the Danspace Project at St. Mark's Church, NYC for three seasons in a row. His many recording credits include Cantata by Stravinsky with Robert Craft conducting. He teaches voice at Bennington College, VT.
JANIS BRENNER
Janis Brenner is an award-winning dancer/choreographer/singer/teacher and is Artistic Director of Janis Brenner & Dancers in N.Y. She has toured in 35 countries and is recognized as a "singular performer" with a multifaceted artistic range receiving numerous honors/grants from the US State Dept., The Trust for Mutual Understanding, Asian Cultural Council, The Fund for US Artists, and UNESCO, for tours in Russia, Indonesia, Senegal, Taiwan, etc. Janis joined Meredith Monk & Vocal Ensemble in 1990 for ATLAS, receiving a group "Bessie" award for The Politics of Quiet in 1997. She performs an acclaimed suite from Monk's Songs from the Hill in concert and in 2009, revived Monk's seminal 1964 solo Break for JB&D's NY season at Joyce SoHo. Her classes / workshops in technique, improvisation, choreography, repertory and voice have been taught throughout the world. She is currently on the faculty at Juilliard serving as Choreographic Mentor and Creative Process instructor, as well as creating and touring with JB&D. Her most recent work has taken her to Bosnia, Macedonia, Stockholm, and Singapore. After receiving a 2017 "Best Choreography" award from the United Solo Festival Off-Broadway, Ms. Brenner premiered her interdisciplinary full-length solo, Inheritance: A Litany at the festival in October 2018.
SIDNEY CHEN
Sidney Chen began performing with Meredith Monk & Vocal Ensemble in 2012, in Realm Variations with the San Francisco Symphony. With the M6, a vocal sextet dedicated to Monk's music that he co-founded, he has performed at the Whitney Museum, La MaMa ETC and Symphony Space in New York, and sang on the recording of Monk's Songs of Ascension. In 2006 he sang in Zankel Hall at Carnegie Hall as part of the Meredith Monk Young Artists Concert. Based in San Francisco, Sidney has performed Monk's unaccompanied solo works at Garden of Memory in Oakland, California. In 2009 he performed in Carnegie Hall's 45th-anniversary celebration of Terry Riley's In C. He sings with and is the Artistic Advisor for Volti, San Francisco's renowned chamber choir dedicated to contemporary music. He performs throughout the San Francisco Bay Area as a bass soloist, and has recorded vocals for the Kronos Quartet.
ALLISON EASTER
Allison is a dancer, singer, teacher, director and producer. She has worked with Meredith Monk since 1985's revival of Quarry, appearing in The Travelogue Series, Book of Days, The Ringing Place, ATLAS, Three Heavens and Hells, Vessel, and The Politics of Quiet, for which she received a New York Dance and Performance Award. She can be heard in recordings of ATLAS and Volcano Songs. She was a performer and rehearsal director for STOMP, the Off-Broadway percussion show. For dancing with Susan Marshall and Company, Allison was featured in the Village Voice article, "1994's Breathtaking Performances." Running in the Family, created with her mother Mary Easter, was presented by the Walker Art Center. Allison has directed and/or produced at The Ensemble Studio Theater and The NY Fringe Festival, taught at NYU Tisch School of the Arts, and is on the faculty at Pace University where she choreographed Trojan Women.
ELLEN FISHER
Ellen Fisher is an interdisciplinary artist whose work combines dance with visual components such as film, shadow play, objects and puppets. She began performing with Meredith Monk/The House in the '70s, in such works as The Plateau Series and Recent Ruins, and more recently has appeared in mercy, impermanence, Songs of Ascension, On Behalf of Nature and Cellular Songs. Fisher's performance work is informed by ethnographic research in trance dance and rituals of South Asia, particularly Sri Lanka. Since 1981, she has toured solo work throughout Europe and the U.S., also directing large ensemble work reinterpreting myths and legends. Her film work, including documentaries, has been included in festivals throughout the world. She has received funding through the NEA, Art Matters Inc., Jerome Foundation, NYFA and the Asian Cultural Council, winning a 2004 Humanities Fellowship and a 2005 and 2018 Travel Grant. Fisher continues to teach and collaborate with artists on community intergenerational and intercultural projects, both domestically and internationally, and recently served as a Fulbright Scholar in Sri Lanka.
KATIE GEISSINGER
Katie Geissinger has performed with Meredith Monk worldwide since 1990, in concert and in theater pieces such as ATLAS, mercy, the Grammy-nominated impermanence, Songs of Ascension, On Behalf of Nature (all on ECM), Cellular Songs and The Politics of Quiet, for which she received an ensemble Bessie award. Other career highlights include the premiere of Bang on a Can's Obie-winning The Carbon Copy Building (Canteloupe), touring with Philip Glass and Robert Wilson's Einstein on the Beach (Elektra Nonesuch), and performances at Carnegie Hall as a soloist in Bach's Magnificat, Honegger's Le Roi David, and Monk's WEAVE. Katie also sang in Jonathan Miller's staging of Bach's St. Matthew Passion at BAM, John Tavener's The Veil of the Temple at Lincoln Center, and Ann Hamilton's the event of a thread, with music by David Lang, at the Park Avenue Armory. Her Broadway credits include Baz Luhrmann's production of La Boheme, and Coram Boy. Recent performances include Julia Wolfe's Steel Hammer in collaboration with Anne Bogart's SITI Company and The Bang on a Can All-Stars, Marisa Michelson's oratorio Naamah's Ark, conducted by Ted Sperling, and concerts at Lincoln Center's White Light Festival with the Young People's Chorus of New York City. Katie is a member of the professional Cathedral Choir of St. John the Divine under the direction of Kent Tritle. She has recorded for ECM, Canteloupe, and Elektra Nonesuch. Teaching experience ranges from choral work in Estonia and San Francisco to workshops at Naropa, Oberlin, the Experimental Theater Wing at NYU, Berklee, and the Carnegie Hall Professional Training Workshop.
CHING GONZALEZ
Ching was born in Manila, raised in Honolulu, and has worked in New York City's experimental dance, music and theater scenes since 1976. He has been a member of Meredith Monk/The House and Meredith Monk & Vocal Ensemble, performing in her operas, music/theater pieces, concerts, films and recordings since 1984. He also has presented his original dance/theater works in New York, San Francisco and Honolulu. Highlights: originating member of Laura Dean Dancers and Musicians; member of Hot Mouth, an a cappella hip-hop theater; appeared as Honey Love in Jeff Weiss' midnight serial, Hot Keys; The King and I on Broadway with Yul Brynner. Special thanks to Columbia University Human Resources, where he has worked as an officer of administration since 1998.
ANDREA GOODMAN
Andrea Goodman is one of the original singers of Meredith Monk & Vocal Ensemble, appearing in theater pieces as well as concerts worldwide (1974-1991), in the films Ellis Island, Book of Days and Peter Greenaway's Four American Composers, and on five of Monk's albums, including Dolmen Music and Turtle Dreams. Living in Maine since 1989, Andrea works with Figures of Speech Theatre as singer, composer, music director, actress and puppeteer, most recently singing David Lang's Little Match Girl Passion for a theatrical production at Bates College. She and Anna Dembska also perform as Music of a New Frequency, an improvisational duo. Andrea recently sang in The Nubian Word for Flowers by author Ione and composer Pauline Oliveros, and previously in their opera, Io and Her. Andrea has taught voice privately and in workshops for 40 years, and over the last 28 years she has developed Cosmic Harmony, a class to transmit and facilitate vocal sound healing and the free flow of intuitive singing. An ordained minister/priestess since 1998, she is the founder of Ruby-Throated Spirit, Sanctuary, Studio and Labyrinth. Her CD, Divine Doorways with percussionist Gerry Hemingway features improvisations on Tarot archetypes. Andrea is the author of the book, "Lightning Holds My Hand, A Woman's Journal of Guidance," and her poetry and essays appear in anthologies and journals.
LANNY HARRISON
Lanny Harrison, character actress, dancer and cabaret artist, began her career in the New York Pantomime Theater in 1966. She has been a member of The House since 1969, and has played leading roles in many of Ms. Monk's productions, most recently mercy and a revival of Quarry at the Spoleto Festival USA. She has played character roles in Off-Broadway musicals and films and, for the past 30 years has written and performed one-woman shows, touring America and Europe. She teaches theater at the Gallatin division of NYU, an ongoing workshop in New York (Characters in Motion), and intergenerational workshops at West Kortright Centre in upstate NY. She is a certified meditation instructor, and taught at Naropa University for many years. Since 2000 she has been a member of the Shambhala Arts team at the ALIA Institute in Halifax, Nova Scotia, and has practiced Tibetan Buddhism as a student of Chögyam Trungpa Rinpoche since 1973. Lanny is currently at work on her book "Characters in Motion – Improvisational Exercises – Workshops 1970 – 2018"
BOHDAN HILASH
Clarinetist and multi-instrumentalist Bohdan Hilash joined the Vocal Ensemble in 2002. He has appeared at many of the world's renowned concert venues and festivals as a performer of orchestral, chamber, and contemporary music; opera; musical theatre; and jazz. He has performed with several of the world's leading orchestras, including the London Symphony Orchestra and New York Philharmonic with conductors such as Leonard Bernstein, Kurt Masur, and Zubin Mehta. Mr. Hilash has premiered numerous new compositions written for him throughout the world and worked with many of the field's foremost artists and ensembles including the Bang on a Can All-Stars, Chamber Music Society of Lincoln Center, and Continuum. His diverse performance career encompasses projects in jazz and ethnic music, music for radio and television, and numerous recordings and soundtracks for feature films. In the theater Mr. Hilash has been a featured performer in collaboration with leading theater companies, playwrights, and directors, including Arthur Miller and Lee Breuer. His recordings may be heard on the ECM, Chandos, RCA Victor, CRI, Mode, CBC, Finlandia, RCA, New World, CCNC, TBM, Capstone, and RP labels.
JOHN HOLLENBECK
Genre-crossing composer/percussionist John Hollenbeck, renowned in both the jazz and new-music worlds, has been working with Meredith Monk since 1998 and has appeared in Magic Frequencies, mercy, impermanence, Songs of Ascension and On Behalf of Nature. John received degrees in percussion (B.M.) and jazz composition (M.M.) from the Eastman School of Music and moved to New York City in the early 1990's. Since then, John has gained widespread recognition as the driving force behind the unclassifiable Claudia Quintet and the ambitious John Hollenbeck Large Ensemble, groups with roots in jazz, world music, and contemporary composition. He has earned four Grammy nominations: for his Large Ensemble's releases, A Blessing (Omnitone, 2005) and eternal interlude (Sunnyside Records, 2009); for his composition "Falling Men" commissioned by the Orchestre National de Jazz and funded by the Chamber Music America French-American Jazz Exchange (2010); and for his arrangement of Jimmy Webb's "The Moon's a Harsh Mistress" commissioned by the hr-BigBand of Frankfurt, Germany (2013). John's most notable awards include a 2007 Guggenheim Fellowship, a 2010 ASCAP Jazz Vanguard Award, and a 2012 Doris Duke Performing Artist Award. John's recent works include commissions by Bang on a Can and the People's Commissioning Fund; Ethos Percussion Group funded by the Jerome Foundation; Youngstown State University; Melbourne Jazz Festival; Scotland's Edinburgh Jazz Festival; University of Rochester, New York; and Ensemble Cairn of France. John was a professor of Jazz Drums and Improvisation at the Jazz Institute Berlin from 2005-2016 and in 2015 joined the faculty of McGill University's Schulich School of Music.
PAUL LANGLAND
In a career spanning 46 years, Paul Langland has built an international reputation as a pioneering dance teacher and innovator, choreographer and performer. His career highlights include: creating Allan Wayne Work, the teaching and choreographic system based on the work of American dancer Allan Wayne; being an original member of Meredith Monk & Vocal Ensemble; being central to establishing Contact Improvisation in New York through performances, teaching, and event organizing; being a collaborator and performer with Mary Overlie when she developed the Six Viewpoints; and presenting his choreography and teaching world-wide. With Meredith Monk he was in such original productions as Quarry, The Travelogue Series, Recent Ruins, Specimen Days, Ellis Island (film), Dolmen Music, Turtle Dreams, and others. He has also worked with several other legendary directors and choreographers including Steve Paxton, Ping Chong, Simone Forti, David Gordon, Daniel Lepkoff, Sally Silvers, and Diane Torr. Paul is an Arts Professor at New York University's Tisch School of the Arts Department of Drama, Undergraduate, Experimental Theatre Wing. He is also a recipient of the BAX (Brooklyn Arts Exchange) Arts Educator Award, 2014. www.paullangland.com
BRUCE RAMEKER
Bruce Rameker began performing with Meredith Monk & Vocal Ensemble in 2008. He has appeared as both a baritone and a countertenor on the stages of Lincoln Center, Kennedy Center, Town Hall, the Concertgebouw in Amsterdam, and the Edinburgh and Spoleto Festivals in a diverse repertoire that includes ancient music, operetta, oratorio, tango and new music. A frequent collaborator with many composers, he has premiered new vocal works of Ben Yarmolinsky, John Kennedy, Richard Pearson Thomas, Anna Dembska, William George, Holly Herndon, Roberto Scarcella Perino, and Luna Pearl Woolf. Rameker has sung with the Skylight Opera Theatre, Chicago Opera Theater, New York City Opera, Anchorage Opera, San Francisco Ballet, Sacred Music in a Sacred Space, Waverly Consort, Voices of Ascension, Musica Sacra, and New York Ensemble for Early Music. Recordings include A Seeker's Faith, One Body by John Kennedy, Just Another Hour with Trillium Ensemble, ¡Iberia! with Waverly Consort, Klaas de Vries' opera, A King, Riding, and Meredith Monk's Songs of Ascension and On Behalf of Nature. Born in Wisconsin, he is a graduate of the Curtis Institute of Music and the San Francisco Conservatory of Music.
ALLISON SNIFFIN
Allison Sniffin, a multi-instrumentalist, singer and composer, has been a member of Meredith Monk & Vocal Ensemble since 1996, performing in The Politics of Quiet, A Celebration Service, Magic Frequencies, mercy, Turtle Dreams, Book of Days (concert version), impermanence, Songs of Ascension, On Behalf of Nature and Cellular Songs. She has collaborated with Meredith Monk on the orchestration of Possible Sky, Night, WEAVE, Realm Variations and Backlight; arranged Monk's music for Bang on a Can All-Stars; edited and contributed to two albums of her piano music; and prepared many of her a capella and instrumental works for publication. Ms. Sniffin has received grants from Meet the Composer and Concert Artists Guild for her compositions. She is a frequent arranger/orchestrator for The Stonewall Chorale and Melodia Women's Choir, NYC. She was also winner in the New York Philharmonic's 2017 New World Composition Challenge. Ms. Sniffin serves as organist at Middle Collegiate Church and Temple Sha'aray Tefila in NYC.
JO STEWART
Jo Stewart is a movement-theater artist and educator. She uses a combination of gesture, voice, and improvisational scores to make work that meets notions of blackness with queered mythologies. She has previously been an artist in residence at the Anderson Center at Tower View (2018), Atlantic Center for the Arts (2018), MAAS (2017), and Arts Letters and Numbers (2016). She is currently an artist in residence at The Old American Can Factory in Brooklyn, NY. She is the newest member of Meredith Monk & Vocal Ensemble, currently touring Cellular Songs. Stewart graduated from Reed College with a BA in English literature (2014), and teaches dance-theater at Pierrepont School in Westport, CT. Stewart will be pursuing her MFA at Brown University this fall.
PABLO VELA
Pablo has been a member of Meredith Monk/The House since 1975, performing in major productions on stage and on film. He was also Associate Director of Monk's opera, ATLAS: an opera in three parts, American Archeology #1: Roosevelt Island, and The Politics of Quiet. Vela received his theater training at Yale University and, in addition, studied with Viola Spolin (improvisation) and with Jacques Lecoq (masks and mime). Vela's work as performer and/or director has been presented throughout the US and Canada, as well as in Europe and in Central America. He teaches at The City College of New York and, in addition, is coordinator for the biannual Meredith Monk & Vocal Ensemble Company Member Workshops.
RANDALL WONG
An ensemble member since 1990, male soprano/countertenor Randall Wong has built a distinguished reputation specializing in both historically informed performances of Baroque and Classic period repertoire and contemporary music. His solo work in opera, concert performances, and recitals has taken him from such far flung places as Sydney to Juneau, AK: five continents in all. A number of operatic roles have been composed for Mr. Wong. With Houston Grand Opera he premiered Stewart Wallace's Where's Dick and Harvey Milk (reprised by New York City Opera and San Francisco Opera), and Meredith Monk's ATLAS. As a member of the ensemble he has participated in numerous theatrical and concert tours including ATLAS, The Politics of Quiet, and A Celebration Service.
Top (left to right): Bob Shamis, Stephanie Berger, Musée du Louvre / Olivier Ouadah
Bottom (left to right): John Edward Mason, Bob Shamis, The Arts Center at NYU / Abu Dhabi