Order by December 12 to ensure Christmas delivery!*
*(for domestic orders only. For international shipping, please allow extra time).

CDs

RECORDINGS BY MEREDITH MONK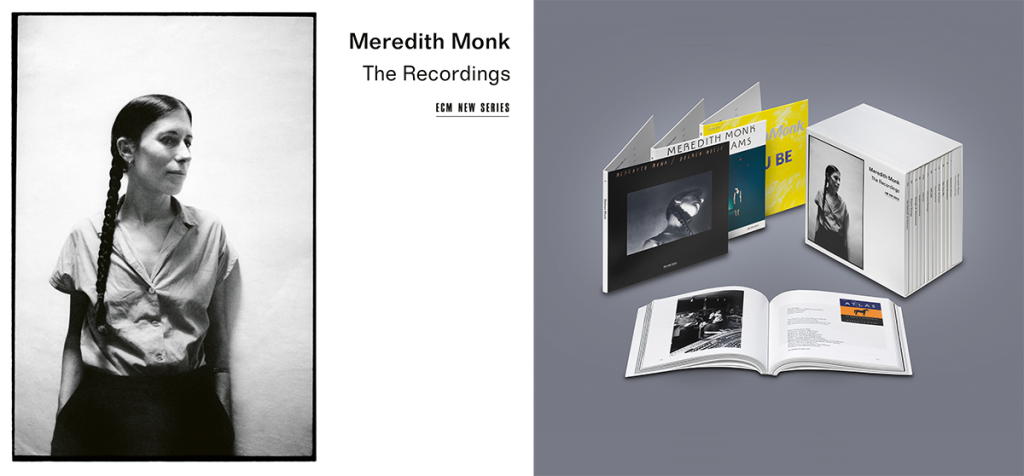 Meredith Monk: The Recordings
13-CD Box Set
Available: November 11, 2022
ECM New Series 2750


In celebration of her 80th birthday, ECM New Series releases Meredith Monk: The Recordings, a stunning, comprehensive 13-CD box set edition compiling all of Meredith Monk's ECM New Series discs to date.
Included in the box set are the albums Dolmen Music, Turtle Dreams, Do You Be, Book of Days, Facing North, ATLAS, Volcano Songs, mercy, impermanence, Songs of Ascension, Piano Songs, and On Behalf of Nature. Each album is a revelation.
This beautifully designed box set incorporates a 300-page book reprising all original liner notes, plus new texts and interviews, many photographs, archival documents, quotes from the press, and more.
From Manfred Eicher's preface: "Meredith Monk is one of the truly original artists of our time and we are proud to present this edition of her collected recordings on ECM. It has been a great inspiration and a real joy to have worked with her on the projects included here, a voyage of discovery. From Dolmen Music to On Behalf of Nature, Meredith's ensembles have expanded and contracted to meet the changing needs of the music … But whether orchestral forces are involved (as on ATLAS and Songs of Ascension) or just two musicians (as on Facing North and Piano Songs), Meredith's artistic signature is unmistakable. As assuredly as fellow outsiders and independent thinkers such as Henry Cowell, John Cage or Harry Partch, she has created her own universe, and in the process changed perceptions of contemporary music."
Limited Edition Signed Box Set: $200.00

---

---

---

---
---

---

---

---

---

---

---

---

---

---

---

---

---

---



RECORDINGS OF MEREDITH MONK'S MUSIC BY OTHERS


---

---

---
---

---