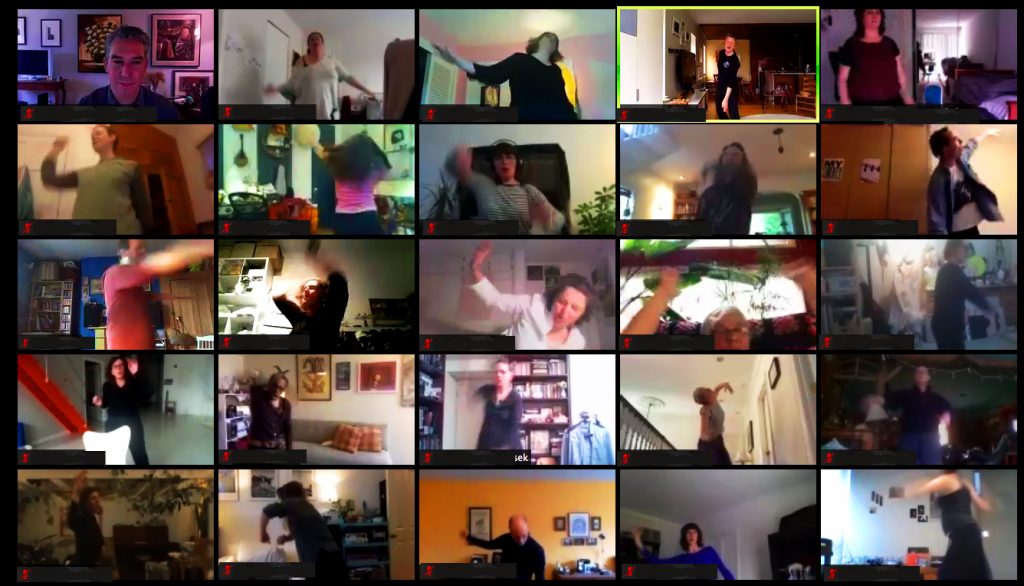 ONLINE ZOOM WORKSHOPS
In April 2020, we began to offer our workshops on the Zoom platform, in response to the current pandemic. We have since resumed some in-person offerings as of July 2022. It is our hope that continuing with this online platform can help to feel a sense of solidarity within a more global community, maintain a connection to and fortification of your voice and body during these challenging times, and serve as an act of self-care.


DANCING VOICE/SINGING BODY
Fall 2022 – New offerings with members of Meredith Monk & Vocal Ensemble!

Each session is led by a different facilitator for 1 1/2 hours every other week. This series will also have a special focus on notions of collaboration within Meredith's process of creating work.


Sundays from 1pm-2:30pm (ET / New York time):


November 20
Janis Brenner's session will include a brief physical warm-up, a vocal warm-up with the teaching of a song, and a character study through voice and movement based on archetypes.

December 4
Ellen Fisher's session will be movement based, using some of Meredith's language of gestural shaping. She will lead a comprehensive physical warm-up that opens up the channels of expression to explore various dance narratives.

December 18
Lanny Harrison will focus on shape-shifting and transforming characters in changing landscapes and environments within solo forms, working predominantly from a movement base. She will also touch on how mindfulness/awareness practice and meditation can inform all theater work.


We hope you'll take advantage of these unique offerings, sharing different exercises and perspectives related to Meredith's development of the Dancing Voice/Singing Body.

To register for a workshop, please fill out the form below or click HERE.


A $15 donation is suggested per session and can be made using the button below. We appreciate your contribution at any level.